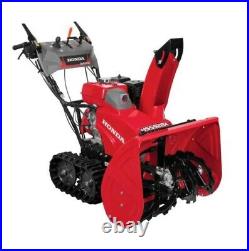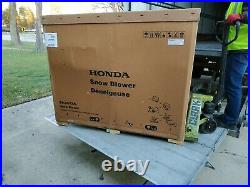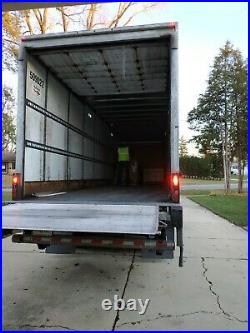 If you found this listing, you likely know what this beast is. The Honda HSS928AAT snow thrower (sometimes referred to as HSS928AT) has the ability to clear a 28-inch path from heavy and frozen snow as well as light and fluffy stuff. No more worries about end of driveway, monster iced-over snowbanks that the plows leave behind! It also features an ice-breaking auger and a chamfered scraper bar that lets you clear right down to the ground in one easy pass, as well as a thumb-operated switch on the control panel that sets the auger height in literally two seconds for precision snow-blowing on all different terrain. This is a brand new model that incorporates the very necessary, redesigned no-clog chute as well as the redesigned gas tank with new safety features mandated by the EPA. Making smooth and tight turns is easy using the "power steering" that locks one track or the other with the bicycle-style, underside handle squeeze grips. An even safely climb stairs with its tracks to blow snow off your wood deck! Four-way fully electronic joystick controls precise chute side movement and tip extension with simple forefinger and thumb pressure. Never hand-crank that frozen chute on your old snow blower again! Simply, no other snow blower does as much at any price. Plus, the HSS928AT has a hydrostatic transmission which lets you have 100% variable speed control from "turtle" to "rabbit" speeds, as opposed to other snow blowers that have a set number of fixed speeds. This kind of transmission also keeps maintenance to a minimum, which means no more frozen and failing friction disks. This beast is serious about moving snow. High-output operation, smooth performance, exceptionally quiet. Engineered for extreme cold-weather use and to start on one pull. 100% variable speed control, ease of control with hand lever steering controls, and the ability to easily disengage the transmission for transporting with the engine shut off. The pneumatic gas strut helps you smoothly adjust the auger height control system to conveniently and easily raise and lower the housing with a thumb-switch on the control panel to clear more or less snow. Sure-gripping cleats provide the rubber tracks with solid traction on inclines, rough ground, icy pathways, and any terrain that God created for your path! Joystick Electric Chute Control. Control the direction that the snow goes with one single joystick, The ability to choose from four directions provides precision snow-throwing control. This joystick also runs off of the engine charge coil instead of a battery. No dead batteries or battery tender to mess with during warmer months! Snow removal speed increased with the larger/taller auger housing. Move more snow through the blower much more quickly than with earlier Honda models! Clears right down to the pavement, reducing the need to go back over the same area multiple times. Scraper is easily replaced after four of five years when it dulls, with no mechanic's skills required. Integrated into cover to provide immense, bright field of light for your late-night snow clearing. Offset Blower Shear Bolt. Quickly and easily replace the shear bolt while on the go. Variable height adjustment allows you to choose the appropriate height for different surfaces. Move up to 1900 pounds of snow per minute. Allows you to clear snow quickly and get more done in less time! Get inside and swiftly back to that nagging wife where you belong! Maintenance free sealed drive and gears and no plastic or rubber in the working parts. No yearly maintenance required for the drivetrain, and no chance of getting salt, sand, or other debris in your gears! Disengage one drive side track at a time. Honda's version of "power steering" makes turning so much easier! I was on a wait list that took a year and a half! Honda is so backlogged with the pandemic supply chain disorder that it prohibited dealers from even accepting snow blower orders for this HSS928AAT until April, 2022, for either late 2023 or early 2024 deliveries. In other words, the factory is not allowing its dealers anywhere in the country to write your name on a list to get in line anymore since the line is so long — even if you arrive with your fists full of Franklins. Still sealed and in the wrapper. Untouched by any filthy, greasy hands stinking of cheap cologne or perfumed hand lotion – or any hands except those that were carefully gloved at the factory and inserted your beast into the wrapper. It uses a smooth, reliable, enclosed hydrostatic drive instead of rudimentary, unreliable, noisy, spinning friction disks that soon lock up or fall apart after just a season or two. This ferocious and powerful beast, according to Honda, can throw snow 52 feet. Videos from YouTube owners confirm. From what is spoken about this particular model in online forums and Consumer Reports, there is none better. This is the benchmark for all others. It is simply a beast. And now, you, too, can have one. They are impossible to find and the wait is forever with backorders at every Honda dealer. Look high and low, but you will not find one anywhere. Honda shut its plant in North Carolina last year for the pandemic, production halted, and when it resumed with making lawnmowers for the spring after the retooling of the assembly line for six-foot distancing, there became a waiting list a mile long for these. Honda is taking orders for late 2023 or early 2024 deliveries. Think "more expensive" than you renting a small truck from UHaul yourself. As it is listed on other popular e-commerce sites like Offerup and Craigslist for a lower cost, this beast surely won't last long. Any recourse for "dead on arrival" is with Honda Power Equipment. This should ease any fears you may have. This item is in the category "Home & Garden\Yard, Garden & Outdoor Living\Outdoor Power Equipment\Snow Blowers". The seller is "herbsmedic" and is located in this country: US. This item can be shipped to United States.
Model: Honda HSS928AT
Battery Included: No
Custom Bundle: Yes
Engine Type: 4-Stroke
Assembly Required: No
Product Line: Honda Power Equipment
Tank Capacity: 1.5 gal
Power Source: Gasoline
Type: Track Snowblower
Features: Fingertip Power Steering, Thumb-switch for Auger Height Control, Tracks to Handle All Terrain, Can Climb Stairs with its Tracks, 4-Way Fully Electronic Joystick for Chute Control, LED Headlight Brightly Illuminates Landscape, Hydrostatic Transmission, Pneumatic Gas Strut, Maintenance-Free Sealed Drive and Gears, Auger Housing is Honda's Automotive-Quality Metal, Proudly Made in America, 2021 Redesigned No-Clog Chute, 2021 Redesigned Gas Tank with New Safety Features, Chute Control, Easy Start
Engine Size: 270cc
Brand: Honda
Clearing Width: 28 in
Bundle Description: OEM Honda tool kit, OEM Honda shear bolts, and owner's manual
Noise Level: Not loud but wear ear plugs with this bad boy!